The main characters, of course 😎
We all choose games in different ways, it's not a secret. Someone is attracted by the plot of the game, and someone is attracted by the good reviews of all sorts of experts. But there is a trouble-free move that will make, at least, pay attention to the game – a handsome and cool main character. Or a heroine. Today we'll just talk about them – about beautiful, sometimes dangerous, daring and strong girls in video games. Go!
Tomb Raider – Lara Croft
And I want to start with my favorite main character – Lara Croft. I met the Tomb Raider back in 2006 when the fresh part of the Tomb Raider: Legend franchise was just released. For that time, the game was a mini-revolution and especially visually bribed gamers. For so many years of the existence of the series, and there are more than 20 of them, the beautiful Lara Croft has already become a kind of icon of computer games. She is brave, brave, smart, and of course sexy. But it can also be vulnerable and fragile, which is especially well shown in the latter parts of the game. And I won't even talk about Lara's appearance and how she looks today. Just watch the trailer and you'll figure it out. 🙂
Assassins Creed: odyssey – Kassandra
Another one of my favorites. Odyssey is the first of the entire series about assassins game where you are offered a choice of gender of the main character: do you want to play as a boy or a girl? And if you choose Cassandra, then get ready. You can hardly resist her charm. A child of Sparta, trying to find the truth and save her brother, she sets out on a dangerous adventure. Cassie is not only smart and fair, she knows how to stand up for herself in a fight and is very athletic. Plus, very beautiful. And what could be more beautiful than a dangerous and pretty girl controlled by your gamepad?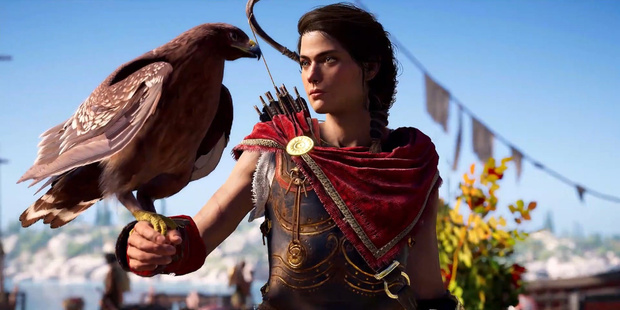 Horizon Zero Dawn – Aloy
A girl with a difficult fate. First, the tribe drives her out, as soon as the baby is born, and then trouble happens to the mentor. Ah yes, Aloy lives in a difficult time. After the apocalypse, in a world invaded by robots, only a few surviving people live in primitive tribes. Therefore, yes, instead of dinosaurs, huge mechanical machines are pacing the expanses, only outwardly similar to animals. Eloy is a beautiful, fearless and curious girl who understands mechanics. In general, the game is very colorful and interesting, I advise.
NieR: Automata – 2v & A2 + 9s
Beautiful, but lifeless. In NieR: Automata, we are offered to play for androids, very much like people, but only outwardly. Well, what feelings and emotions can robots have, you say? But they can. And their mood can also change. In the game, all the attention is on three key characters: A2, who once betrayed the company that created it; 2B is an android who was sent in search of a traitor, and 9S, aka 2B's cute companion. And all three characters – with their own characters, they react differently to the world, situations around and, of course, each of the trinity has its own will and some personal aspirations. By the way, the game has 26 endings, and that's just something.
Injustice 2 – Poison Ivy
Fatal and so dangerous. Not all the same to tell only about positive characters, right? Villains also come with an interesting backstory or cool external data. Like Poison Ivy, for example. Or the same Harley Quinn. Both, by the way, are from the same Injustice universe, that is, from the DC comics. Once Pamela Isley was a simple scientist, albeit with rather cruel methods and character. But, as is usually the case, the experiment did not go according to plan, and now we have before us not an ordinary girl, but a red-haired green villain, entwined with plant stems, instead of blood she has real poison. Hence the name of the antihero. And in Injustice itself, you can go through both a campaign with a script, and choose our greenhouse for individual solo battles. <3